Computers, Websites, Web Hosting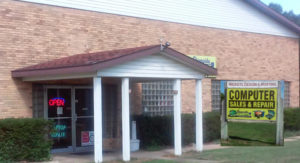 9075 Mason Dr.
Newaygo, MI
231-652-2562
We are THE place to go for Computers, Websites, Web Hosting and computer repairs.

---
Conveniently Located Next to Cronks Restaurant in the Old VFW Building
---
Hours
10 A.M. – 6 P.M.
Monday – Wed. – Friday
Noon – 6 P.M. Tues. & Thurs.
Riverside Internet Service, Inc. focuses on Computers, Websites, Web Hosting. We opened for business in downtown Newaygo on March, 1, 1996 as an ISP selling only dial-up Internet access.
In 2000 we moved to the corner of M37 & M82 where we opened a retail store and computer repair shop.
In the year 2014, we bought the VFW building at 9075 Mason Drive where we continue to offer computer sales and service as well as a large inventory of computer accessories.
While we no longer offer Internet access, we have placed a new emphasis on Web Hosting and Web Design.
The sites that we have built in the last several years use the newer advanced authoring tools such as WordPress with the huge variety of themes that are available for it. We have found two or three themes that we predominately use.
We also offer Web Pages and Web Hosting to Veterans Organizations through our sister company Veterans Web Design
Since opening our repair facility we have successfully serviced
over 10,000 computers.
Many of our former dial-up customers continue to use their email addresses and so we have expanded our email services to include email address at newaygo.com, newaygocounty.com and funcountry.com as well as the original riverview.net addresses.



Riverside Computer and Internet is the definition of Computers, Websites, Web Hosting and has been since we opened the doors in 1996. We were Newaygo County's only commercial Internet Service Provider when we started. We picked Newaygo because it was only a local call to all of the other cities in the County.